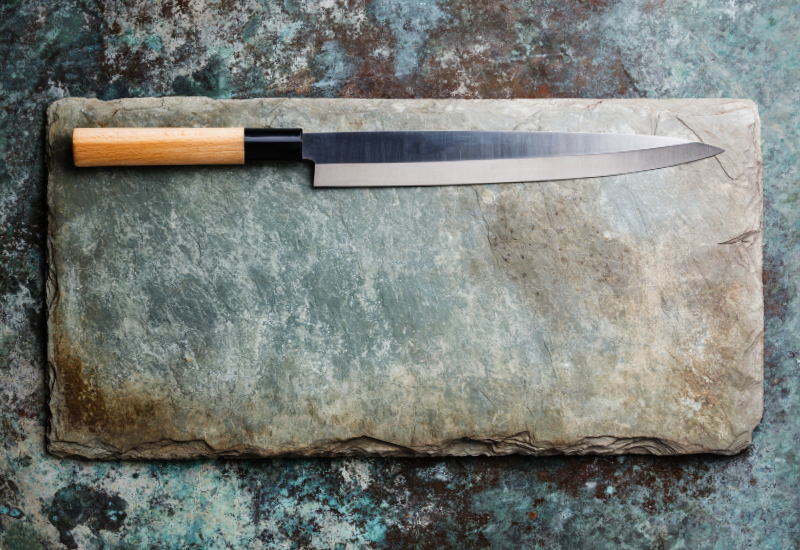 Japanese cuisine tops the world charts for its intricate food preparation processes, all the way from selecting fine-quality ingredients like meat, poultry, fresh seafood choices, and vegetables to the skills of the blades. As Japanese delicacies like sushi and sashimi are both loved by gourmets and diners for the perfect combination of mild, subtle flavors with a typically more tangy, exotic tastes, Japanese chefs and culinary experts hold high expectations when it comes to the crafting of delicious, mouth-watering Japanese signature dishes.
Not only Japanese dishes are loved for their magical, divine tastes – the skills required to hand-craft unique and original sashimi dishes are not to be simply learned just in a few days. It is essential for Japanese food professionals and chefs to wisely pick their tools and correctly utilize them for a wide variety of menus and dishes.
Generally, Japanese food requires the skills of the blades – Japanese knives. By Japanese knives, we are talking about premium-quality knives made in Japan, to be used by worldwide Japanese food chefs and experts. Japanese knives, in general, differ in function, shape, sizes, and built-in functions. However, the following are the two main characteristics of Japanese knives and what they're usually like, despite the brands, designs, and functions.
Extreme Sharpness
Japanese knives are generally 'razor-sharp'. Its extreme sharpness exceeds that of Western-styled knives and cutleries – this is because most Japanese delicacies require filleting or slicing through fresh seafood and fish. As most dishes require the presence of fine-quality, exotic-flavored, vivid-colored fish like Salmon, Japanese knives do the cutting, slicing, filleting, and chopping work. The blades are designed and made to be extremely sharp, as it aids knife users when it comes to making paper-thin slices of meat or poultry.
Delicate handling of ingredients require the perfect utilization of supreme-quality Japanese knives and traditional techniques to perform various filleting and slicing skills. The results of delicate handling and the use of razor-sharp Japanese knives not only include the appreciation of Japanese food aesthetics, but also the subtle, warm feeling of together-consumed raw fish fillet sliced and prepared in a suitable manner.
Hard Steel Blades
Japanese knives are forged with hard steels, of those might include: high prime carbon, Damascus stainless-steel, silver paper steel, VG-10 stainless steel, and other stainless-steel types. To craft traditional Japanese delicacies like sushi or sashimi, perfect slices of fish and beautifully formed Japanese rice pieces are the important components of the dish. If the knife you are using isn't forged out of a hard, premium-quality steel, cutting through dense, harder ingredients or bones will be a challenge.
Despite designed to be thin and light in weight, Japanese knives are made with extremely hard blades to enable users the capability to cut through varying materials. High-end, supreme-quality steels like high prime carbon and silver paper steel are often used in forging traditional Japanese knives for professional-use. Therefore, it is seldom to see Japanese knife brands with knife models and series made out of general steel with low Rockwell hardness values. A good Japanese knife should have HRC values of around 60-62 to be strong and durable enough in the crafting of various Japanese delicacies.
When it comes to selecting a great Japanese knife to make your own sushi at home or for professional use, it is best to consider the two main characteristics of Japanese knives to ensure the right knife type is purchased. As both blade sharpness and steel type are two important factors, it is highly recommended for users to choose knife models with extremely sharp edges and hard steels with HRC of over 60.