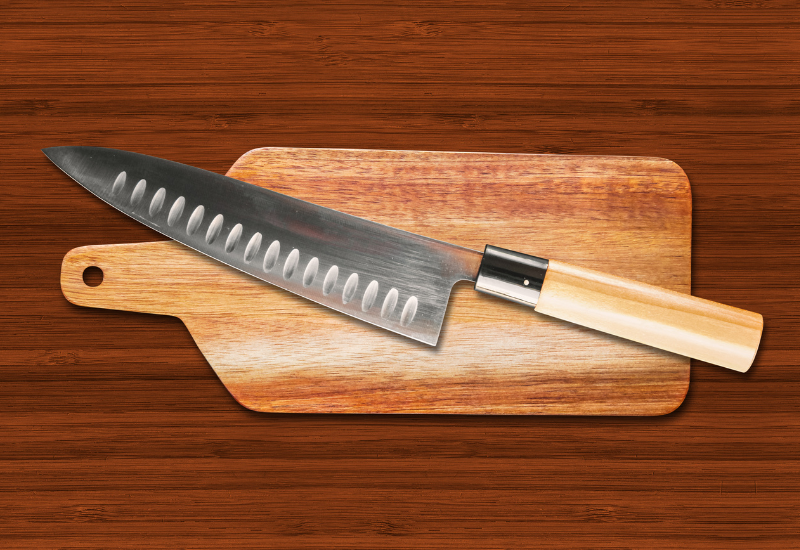 Japanese cuisine is famous for its variety of unique dishes, the weird yet fiery combination of ingredients that caught our attention with the vivid colors of Salmon, shining Caviars, lush green Nori seaweed, and brown, medium-rare Wagyu beef made our hearts flutter like butterflies lost in the forest. Famed for the intricate processes required to craft culinary arts, Japanese cuisine tops the charts for fine quality dishes, its unique authenticity, and the blends of varying, fresh ingredients together creatively. Japanese chefs are then known for their extraordinary blade skills – the superb, swift chops, perfect slices, and the professional cuts often showcased at open sushi bars and private sushi tables in Omakase restaurants.
The mastery of the blades, the skills and techniques each chef has in their own blood, is what makes sushi and sashimi dishes delicious. Mouth-watering sushi alone would definitely not make people go all the way to luxurious, pricey Omakase restaurants alone. Without the crafting process diners can witness, the beauty of sushi and its delicacy drops down a little. Therefore, the mastery of the blades is highly essential, as it is a major factor which determines the product of success – the savory, stomach-growling hunger-calling sushi.
As knives are important in the crafting of sushi, sashimi, nigiri, and other popular Japanese dishes, Japanese chefs own quite a few knives of their own to craft their ideals. The common knife types include the Santoku, Bunka, Nakiri, Honesuki, Sujihiki, Hankotsu, and Gyuto. Each knife is designed to perform different tasks, but one of the mostly-used knives is no other than the Gyuto knife.
Gyuto, The Cow Blade
If you're a Japanese food fan, Wagyu beef is definitely a term you must know. And yes, the Japanese word 'Gyu' spelled in Gyuto knife is similar to that of Wagyu's 'Gyu'. The word 'Gyuto' literally means "Cow blade" in Japanese, which also explains why the Gyuto knife is originally used to cut, chop, and slice beef. Often referred to as a Japanese version of the Western chef knife, Gyuto knife is often used for general purposes, be it to cut veggies, slice meat, or chop ingredients of all sorts despite its specific name. Gyuto knife equips an extremely sharp edge, with thinner blade body compared to that of a Western knife. Japanese knives are forged out of extremely high quality materials, where the steel that makes up the blade is mostly rust resistant and durable. The materials that make up the knife handle comes in a variety of forms, be it wood, metal, stone, or synthetic materials, where professionals can choose just their favorite to work with. A Gyuto knife, though, often comes with either wooden or metal handles as their standard.
Among the best Gyuto knife models available, Sakai Takayuki's 33-Layer VG10 Damascus Hammered Japanese Chef's Gyuto Knife 210mm is a perfect model for professionals. Its Damascus hammered steel is a 33-layer VG10 upgraded version from the initial 17-layer version, making it extremely durable. Its supreme quality, sharp edge also gives it a water resistance feature along with rust resistance. Sakai Takayuki 33-Layer VG10 Damascus Hammered Japanese Chef's Gyuto Knife 210mm has excellent edge retention, which also makes it one of the most-loved Gyuto knives. Apart from Sakai Takayuki's Gyuto, Yu Kurosaki's R2(SG2) Hammered SHIZUKU WA RS8P Japanese Chef's Gyuto Knife 210mm with White-Ring Octagonal Handle is yet another perfect Gyuto for both novices and professionals. As a double-edge knife, forged out of the Super Gold 2 micro carbide powder stainless steel, this is definitely a must-have as it is long-lasting, rust resistant, and has unique, original designs. For collectors, this Gyuto knife by Yu Kurosaki not only wows them with pure blade beauty, as the octagonal-shaped Rosewood with White Packer Wood ferrule handle also pushes the bar of satisfaction up.